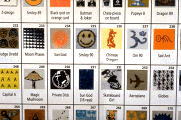 Slang Terms
Slang name acid.
Description
LSD usually comes as tiny tablets known as 'dots' or 'tabs', in or on small squares of paper or cardboard. These 'tabs' usually have various pictures or logos on them, and are swallowed.
Effects
LSD is a hallucinogenic drug. About one hour after taking a 'tab', it causes a 'trip' where the user's environment appears different, with colours, sounds and objects appearing unreal or abnormal. During a 'trip' the person may see visions and hear voices, and time seems to slow down or speed up. The effects can last for around 12 hours.
Side-Effects
It's hard to predict what kind of 'trip' a person will have. During a 'bad trip', a person may feel terrified, feel they are losing control, going mad or dying. A 'bad trip' is more likely if the person is already feeling anxious or depressed before taking a 'tab'.
Risks
A 'bad trip' can trigger mental illness in some people.'Good trips' can also be dangerous, for example if a person has delusions that they can fly or walk on water. A person can also get 'flashbacks', where they feel they are back on a 'trip' for a short period of time, during the weeks and months after a 'trip'. These 'flashbacks' can be distressing.