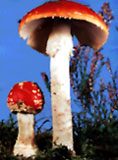 Slang Terms
Slang names include mushies, shrooms, magics and liberties.
Description
The use of mushrooms and other plants for their hallucinogenic effects goes back a few thousand years. While it is reported that over 100 psilocybin – containing mushrooms grow freely world-wide, the most common variety in Ireland is the Liberty Cap. Magic mushrooms may be eaten raw, cooked or brewed into a tea; it is also known that they are dried out for use out of season. About 20 – 30 mushrooms would be regarded as a full dose.

Effects
The effects of magic mushrooms are very similar to an LSD experience but it is not easy to predict whether the user will have mild or a very freakish experience. This is because the strength varies depending on the mushroom species, freshness and the amount of psilocybin. The frightening effects come on after about half an hour and can last up to 9 or 10 hours.

Side Effects
The drug experience (trip) feeds off the person's own imagination, so is very unpredictable and depends on the user's mood, environment and intentions as well as the quantity taken.

Risks
Eating the wrong kind of mushroom can make you seriously ill, and can even kill. They can also have a very bad effect on anyone with underlying psychological problems.