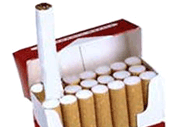 Slang Terms
Slang names include fags, cigs, smokes.
Smoking
Smoking kills more people in Europe than all the people killed by alcohol, other drugs, murder, suicide, road crashes, rail crashes, air crashes, poisoning, drowning, fires, falls, lightening, electrocution, snakes, spiders and sharks.
Description
Tobacco comes from the dried leaves of the plant Nicotiana tabacum. Most of the tobacco used in this country comes from the United States of America and almost 93% are used in the form of cigarettes with the balance made up of cigars and pipe tobacco. Tobacco smoke contains more that 1200 different chemicals including carbon monoxide, tar and the active ingredient that all smokers crave, nicotine.
Effects
Smoking can give a feeling of relaxation, helps some people think or just take their mind off problems. Physically, heart rate and blood pressure are increased and appetite is reduced.

Side Effects
Tolerance rapidly develops to the effects of nicotine and the smoker usually goes on to smoke more regularly. If they stop they suffer withdrawal symptoms such as restlessness, irritability and cravings.

Risks
The more the person smokes, and the longer the period of time involved, the more likely that person is to develop health related problems such as heart disease, poor circulation, blood clots, strokes, bronchitis, emphysema, digestive problems and various forms of cancer, particularly lung, mouth and throat. At a wider level there is evidence that passive smoking can also lead to many similar health related problems in non-smokers.